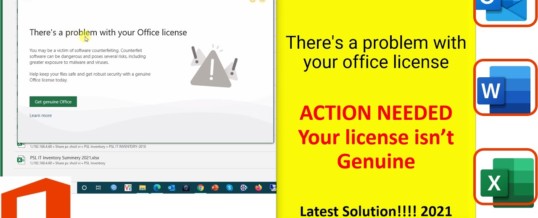 Recently, I received more queries from users who are using Microsoft products asking to solve a problem that has become increasingly common in recent days. It is related to the emergence of a yellowish notification bar with the words "GET GENUINE OFFICE You may be a victim of software counterfeiting. Avoid security risks and get genuine Office now" or "Your license isn't genuine, and you may be a victim of software counterfeiting. Avoid interruption and keep your files safe with genuine Office today" on their apps.
Step 1. Open Windows Command Prompt with Admin rights.
Step 2. Type or copy/paste below command on cmd prompt and hit keyboard Enter button
cd "\Program Files\Common Files\microsoft shared\ClickToRun"

Step 3. Copy/paste another command and again hit Enter from your keyboard
OfficeC2rclient.exe /update user updatetoversion=16.0.13801.20266
Step 4. The above commands will initiate the product update process and it may downgrade or upgrade your installed Microsoft office version. The time taken will depend on your internet connection. So please have a good internet connection.
Share