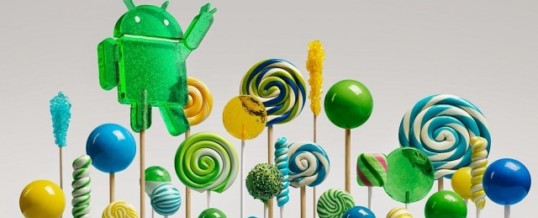 Android 5.0 walk through shows off some of the new features and looks integrated into Android 5.0, a few visual changes and more, but you'll want to check out the Nexus 6 review below to see all the neat new animations and effects in Android 5.0 Lollipop.
Platform Versions :
This section provides data about the relative number of devices running a given version of the Android platform.
For information about how to target your application to devices based on platform version, read Supporting Different Platform Versions.
Version Codename API Distribution
2.2 Froyo 8 0.3%
2.3.3 – 2.3.7 Gingerbread 10 5.7%
4.0.3 – 4.0.4 Ice Cream Sandwich 15 5.3%
4.1.x Jelly Bean 16 15.6%
4.2.x Jelly Bean 17 18.1%
4.3 Jelly Bean 18 5.5%
4.4 KitKat 19 39.8%
5.0 Lollipop 21 9.0%
5.1 Lollipop 22 0.7%
The latest figures from Google show the adoption of Android Lollipop is rapidly increasing. From a 5.4 percent share of the active Android handset space at the start of April, version five of the mobile operating system is now on 9.7 percent of Android handsets communicating with the Google Play Store. That represents a month on month increase of 79.6 percent approx 80%.
Google first reported Android 5.0 Lollipop on a market share that was less than 0.1% during December 2014. This rose to 1.6% during January, then 3.3% during February, and passed 5% in March. The jump to nearly ten percent in April will be welcomed and heralded as a win for the Android ecosystem.
Features :
Material design: fluid, purposeful motion
Better WiFi and Bluetooth controls
Better Sound profiles
Better device protection
Notifications can be flicked away
No more crappy Wi-Fi connection
Share