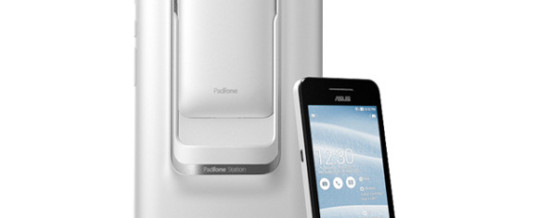 Asus of Taiwan has announced the launch of its PadFone mini smartphone-tablet hybrid in India, which is priced at Rs. 15,999. Asus PadFone Mini was unveiled at CES 2014.
It is basically a small smartphone that can be placed in a tablet dock, which then relays whatever is running on the smartphone's screen on the larger screen of the tablet. It is aimed at those who want a big-screen device to read ebooks, surf the web and watch videos but don't want to carry it around all the time.
The smartphone part of the PadFone Mini comes with a 4-inch 480×800 IPS+ touchscreen, an 8 MP rear camera, a 2 MP front snapper, 1GB of RAM, 8GB of built-in storage expandable via microSD, 3G support with dual-SIM, and a 1,170 mAh battery. It runs Android 4.3 Jelly Bean. Asus has promised an Android 4.4 KitKat upgrade for this in due course of time. The PadFone Mini is driven by a dual-core 1.6GHz Intel Atom Z2560 processor. The 8MP Sony camera features BSI (backside-illumination) and wide-aperture f/2.0 five-element lens with exclusive ASUS PixelMaster technology.
The tablet part only has a 2,100mAh battery and 7-inch HD (800x1280p) IPS display.
For connnectivity, the PadFone Mini offers options of Wi-Fi 802.11 b/g/n, Bluetooth v4.0, Micro-USB, GPRS/ EDGE etc.
Full specifications of Asus PadFone Mini
Smartphone : 4 inch display with 480 x 800 display resolution
Tablet : 7 inch display with 1280 x 800 pixels
Smartphone dimensions : 124.42 x 61.44 x 11. Mm
Tablet dimensions : 199.85 x 119.43 x 13.91 mm
Smartphone : 116 grams
Tablet dock : 260 grams
Android 4.3 Jelly bean Upgradable to KitKat
1.6 GHz Intel Atom Z2560 processor
1 GB RAM
8 GB internal storage
Expandable up to 64 GB via micro SD
2 megapixel front facing camera
8 megapixel rear camera
Smartphone Battery : 1170 mAh
Tablet dock Battery : 2100 mAh polymer battery
connectivity features : GPRS, Bluetooth, WiFi and micro USB
Share