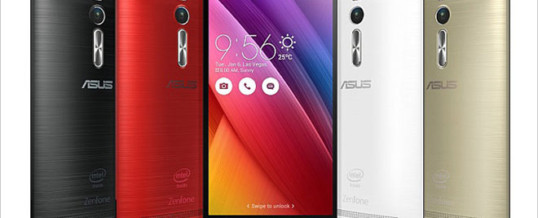 The first European market to get the new handset is France, where customers will be able to find the ZenFone 2 via Asus Shop, as well as at locations like Auchan, Darty, and Cdiscount.
Asus is bringing three ZenFone 2 models to Europe, all running Android 5.0 Lollipop out of the box. The smartphone will come in several versions. While one will have a 5-inch display, another will have a 5.5-inch display and a maximum of 4GB RAM.
The three models expected to release in India are:
Model: ZE551ML with 5.5 inch display and a 4 GB RAM,
Model: ZE550 ML has a 2GB RAM and
Model: ZE500CL has 5 inch display and 2GB RAM.
The 5 inch display (ZE500CL) is the smallest model of Asus and is just a refresher of the most popular ZenFone 5, the phone is more or less like ZenFone 5 with the only change in its visual display which comprises of a 5-inch HD display with Gorilla Glass 3 for visuals and a 1.6 GHz dual core Intel Atom Z2560 processor.
In India the flagship phone Asus ZenFone 2 bearing model number ZE551ML is exepected to release somewhere around 13th of April. Lets have a quick look at the technical specification of the Zenfone 2 series:
Processor: 4 GB RAM supported by 64-bit quad-core Intel Atom Z3580 processor along with 2.3GHz quad-core Intel Atom processor.
Display: The phone has a new ergonomic design accompanied with a 5.5-inch Full HD and a 1280x1920p, IPS display supported with a wide 178-degree viewing angle.
Operating System: It has the latest Android 5.0 Lollipop in all the 3 models.
Camera: 13MP rear autofocus with an f/2.0 wide-aperture lens as its rear camera with dual LED, Front camera: 5MP front snapper for video calling.
RAM & Storage: ZE551ML has 4 GB RAM and the ZE550ML as well as ZE500CL has 2 GB RAM. The internal storage again is of different variants as given 16/32/64 GB internal storage. MicroSD card slot for expansion of internal storage up to 64 GB. All the 3 models have the same expandable capacity.
Connectivity: 4G-LTE, HSPA, GSM, Bluetooth 4.0, Wi-Fi and microUSB
Battery: 3,000 mAh Li-Polymer battery.
The phone also supports Dual SIM hence allowing users to opt for 2 active phone lines.
Asus ZenFone 2 is available in a variety of colors : Osmium Black, Glacier Gray, Sheer Gold, Glamour Red and Ceramic White colors.
Share