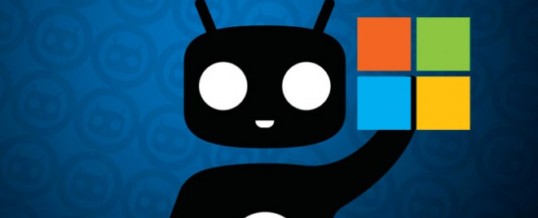 The Palo Alto based custom android OS developing firm Cyanogen announced strategic partnership with Microsoft to provide popular Microsoft services and apps across smartphones running on Cyanogen OS, which is rated as one of the best custom androids till date.
The two companies formally announced a long-rumored "strategic partnership" Thursday, which will put Microsoft's apps and services on Cyanogen devices this year.
Microsoft's mobile apps will be integrated into a future version of Cyanogen's Android-based operating system, as CEO Satya Nadella steps up efforts to make the company's software more popular on Google's platform. Microsoft will create custom versions of these apps for Cyanogen OS, similar to the way it created specialized apps for Amazon's Fire OS.Microsoft's app's won't necessarily come pre-installed on the phones and users will always be able to delete the apps they don't want.
Cyanogen OS is pitched as a more flexible version of Google's OS. This week Cyanogen released version 12 of its OS, which is based on Android Lollipop and is even more customizable than previous iterations.
This is not the first time that Microsoft is partnering with companies that sell android based devices. Earlier, Microsoft had partnered with Samsung for preloading its apps and services in the newly launched Galaxy S6 devices; this after the relation between Samsung and Google jittered after a series of royalty disputes.
The move comes at a significant time for Google, as it faces regulatory pressure from the European Union over Android. Though Android and Google have been virtually synonymous, a partner like Microsoft stands to lend a lot of credibility to the Android startup that has been quickly gaining momentum.
Share