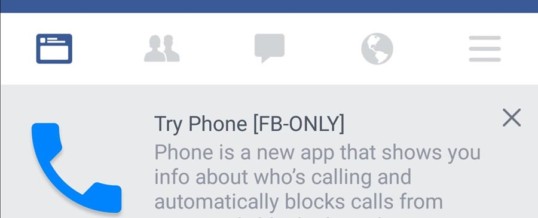 In what seems like a new update to Facebook, a dialer button has been spotted on the social media giant's Android app. This comes soon after WhatsApp started rolling out its own in-app dialling feature that lets users make a voice call to their messenger contacts.
Facebook is testing a new app, called Phone, to leverage on the massive database of mobile numbers, collected from each user on the network. Facebook's Phone app is apparently going to work as a Caller ID and is set to compete with few of the most popular called ID apps, such as Truecaller, CallApp and Contactive, available in the market. However, once it is launched for general users, Facebook Phone app would definitely boast the largest database of users phone number in the world – thanks to the massive 1.39 billion users of Facebook.
While the company has confirmed the existence of the app, it denied commenting any further or to spill any more beans on the features of the app under testing. As of now Facebook's Phone app is strictly meant to be tested only among the selected set of employees and the below screenshot confirms the claim.
Phone (the name that screenshot suggests), might probably be Facebook's big way of entering into your phone's system rather than just lying there like any other social-networking app. Also, this might be Facebook's way of making its ad program more comprehensive, as it would get hold of some real, serious database once (and if) this app goes public.
Share