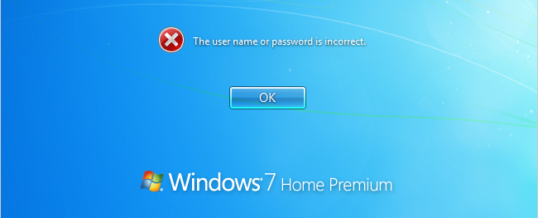 Has it ever happened that you had that administrator account and you forget the password and are unable to login to your pc??
Or maybe you need to hack into your friends computer.
Today we will show you how to login to a computer even without knowing the password. All you need is physical access to the computer and a boot disk or usb drive with Offline NT Password & Registry Editor.
First, download and burn to CD the Offline NT Password and Registry Editor.(A USB version is available as well.)If you don't have another PC, you'll have to bug one of your friends to use theirs.
Resetting your windows password
Boot your problematic machine from that CD that you just burned. You'll end up with something like this on your screen:
You'll be prompted at a couple of screens, which you can generally just hit the Enter key at. For instance, this screen asks if you want to select the first partition, and [1] is already selected, so just hit Enter.
The same thing happens at the next step, where you have to choose the path to your registry. The default is fine, so hit Enter.

Don't let all the stark plain text worry you. The process for what we're doing is actually pretty simple. Typically, you can just press Enter to continue on to the next step. The program boots and then automatically searches your hard disks for Windows installations:

There are a couple of things worth noting about this step:
All accounts on the machine are listed. You can see that there are three: Administrator, Guest, and Dragon.
Two of the accounts have administrative privileges: Administrator and Dragon.
Two of the accounts are actually disabled: Administrator and Guest.
Each account is identified by a RID, which is essentially an ID number for that account.
Now you'll want to probably just blank the password, which is already selected, so hit the Enter key again (you can always change it once you're back in Windows).

And now, you'll have to save what you just did. So type an exclamation point to quit (or the "!" symbol), then type the letter "y" to save.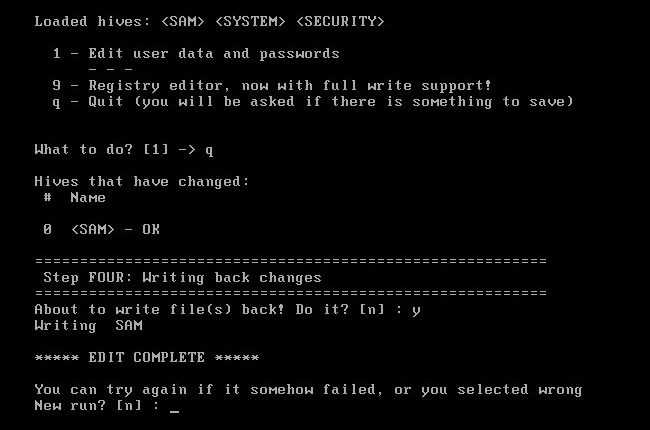 You're done! You can now remove the CD and reboot your machine. The account in question has no password. You can now login with that account and set its password to something that you would prefer.
Share