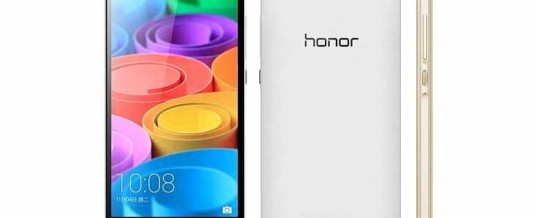 Honor, Huawei's smartphone e-brand for digital natives, announced the first flash sale for its flagship smartphone Honor 4X and during the registration period, that started from 4:00 pm on March 24, 2015 to last till midnight of March 29, 2015, there were over 100,000 registrations.
The Honor 4X will officially go on sale through flipkart.com on Monday, 30th March at 2pm and can only be purchased by consumers who have successfully completed registrations. The smartphone will be sold exclusively on Flipkart.com for Rs 10,499. Honor would select winners from the successfully completed pre-orders throughhihonor.in, and offer to them a limited addition bundle along with the phone at only Re 1.
Limited edition Honor would include a 3000mAh power bank, premium engine headphone and colorful back cover. Honor 6 Plus will officially go on sale later in April, 2015.
"We plan to tap the untouched Indian consumers and emerging markets, especially the youth with our innovative technology offering. We are thrilled to partner with Flipkart.com once again for Honor 4X and see this as a great opportunity to provide customers with a promising product," Allen Wang, president of the consumer business group, Huawei India said.
Honor 4X is powered by a 64 bit Snapdragon 410 MSM8916 1.2Ghz Quad-core CPU with A53 architecture. The phone is equipped with a 13MP rear camera and 5MP Front camera and is backed by a powerful 3000mAh battery. Honor 4X offers a 5.5 inch 720p HD screen. With IPS fit-to-screen and OTP single-screen calibration the phone can achieve high-definition image color rendering facilitating practical 3D game switching and stable HD movie viewing.
The phone supports 150Mbps super-fast connection of 4G network and is more than 7 times faster than the speed in 3G network. Other than this, the phone has 12bit ADC high-precision gravity sensor, Bluetooth 4.0, light sensor, proximity sensor, compass, FM radio and WiFi Direct Connect making one of the most powerful smartphones in this price segment.
Share