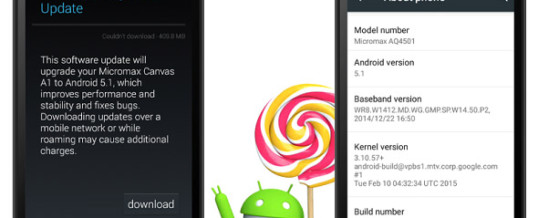 Lollipop updates on Android One smartphones had already been confirmed last month and now Spice Mobiles and Micromax have officially confirmed the Android Lollipop 5.1 roll out on their Spice Dream UNO Android One and Micromax A1 smartphone.
While Spice announced the news on its Facebook page stating "Your rocking weekend starts today..Spice rolls out Lollipop 5.1 update for Spice Dream Uno users. Check NOW!," Micromax has detailed the steps Canvas A1 users can follow to install Android 5.1 Lollipop on their handsets. The update is being seeded in India, and comes just in time not to break Goolge's promise from a few weeks ago.
The update shouldn't surprise anyone as Android One smartphones have since been launched with the latest Android version out of the box in multiple countries. Meanwhile, devices in India have remained on the still prevalent KitKat iteration. The handsets were backed by Google and they promised software updates for 2 years.
Make sure to take a backup of your data and keep the battery level over 75%. The download size will be big so better use a good 3G connection or Wi-Fi.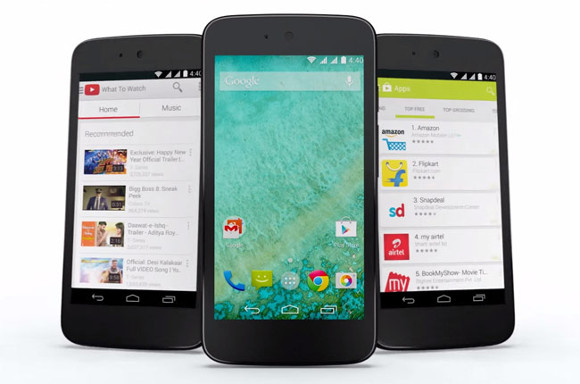 Both Micromax and Spice have not mentioned exactly what changes will the Android 5.1 Lollipop OS update will bring to the Android One smartphones. However, we know some of the features Android 5.1 Lollipop brings: easy handling of Wi-Fi toggles and Bluetooth from Quick Settings, fix for random app crashes, improved security in case the smartphone has been stolen or is lost, improved heads-up notifications that let users swipe up to collapse, better handling of system audio while playing a media file, and new 'No interruptions until next alarm' option in Priority mode.
The Karbonn Sparkle V also being an Android One phone should be getting the 5.1 Update soon.
If you are using any of these phones and have got the update then please leave your feedback in the comment section below.
Share