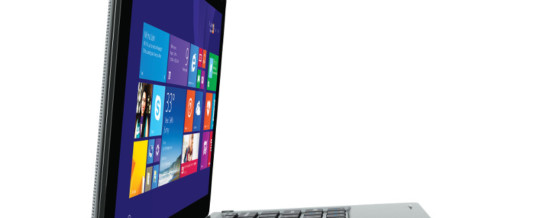 Micromax Informatics has announced its foray into the Laptop category in India and launched the new Micromax Canvas Laptab at Rs 14,999.
The Laptab has been designed as a unique offering of excellent specifications at a breakthrough price, in order to accelerate the adoption of the PC category by first-time users, while also addressing the needs of evolved users as a real portable yet smart device.
Powered by Intel Atom Processor Z3735F and pre-bundled with Windows 8.1, MS Office 365, the device draws its appeal from a very smart design, high definition touch enabled display, in-built 3G SIM slot for mobile data connectivity and a great memory configuration. The device meets the consumer's desire for mobility coupled with productivity.
This launch brings together Micromax, Microsoft and Intel, three pioneering companies who have been leveraging technology as an enabler for the masses. The strategic launch partnership with the marketplace Amazon further drives accessibility, as consumers will be able to purchase the device online, regardless of their location.
Commenting on the launch Vineet Taneja, CEO, Micromax Informatics said, "Today's launch marks our entry into the PC segment, where we intend to drive category growth and not only garner an available market share. We believe that our vision complements the initiatives for Digital India, and we will be launching a range of exciting products over the next few months in the category."
"Micromax Canvas Laptab has been designed to address the limitations of the existing devices by offering brilliant specifications that are ideal for the productivity and entertainment needs of students and evolved professionals. With its innovative features like touch enabled display, easy- to-use form factor, pre- bundled Windows 8.1 and Office 365, we expect the Laptab will make the consumer experience a true delight," added Taneja.
Debjani Ghosh, vice president, Sales and Marketing Group and managing director, Intel South Asia said, "With the introduction of the Intel Processor powered Laptab, Micromax has strengthened its industry leadership position by being able to offer a comprehensive portfolio across form factors, which will help in getting technology in the hands of more Indian citizens."
According to Tyler Bryson, general manager, Marketing and Operations, Microsoft India, "Increasingly people want devices that are mobile and lightweight and help them create while on the move, such as a student working on an assignment or a sales professional submitting a customer proposal. Windows devices excel at these tasks and with the Canvas Laptab, we are making personal computing very affordable. We are excited to partner with Micromax in their foray into this segment."
The Laptab pre-bundled with genuine MS offerings like Windows 8.1 and Office 365, which are worth over Rs 11,000 provide consumers with amazing value for money for the entire product package. Also the device facilitates smart search, optimized battery usage, customization, improved application performance, refreshed notification system and will have a confirmed free upgrade to Windows 10 when available.
With 7,700 mAh battery maximizing portability and 10.1-inch WXGA IPS touch-enabled display, users can enjoy up to more than 10 hours of battery life with best in class viewing experience.
Powered by Intel Atom Processor Z3735F with speed upto 1.83 GHz and with a 2 GB DDR3L RAM, the Laptab ensures that the users can enjoy a seamless multimedia experience when playing games, watching videos or surfing the internet, without the problems of device heating and lag. The device comes with a 2MP FF rear camera and a 2MP FF front camera for video calling.
Share