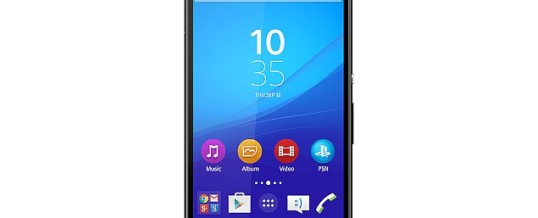 While Sony last week quietly launched its Xperia Z4 smartphone in Japan with no word on its global release, a new report now indicates the smartphone will be launched with the Xperia Z3+ moniker outside Japan – in line with reports that the Xperia Z4 is not the company's 2015 flagship for global markets, and the real flagship is reportedly due to be launched by the end of May.
The Sony Xperia Z4 smartphone is a minor upgrade over the Xperia Z3, with most specifications matching apart from the front-facing camera and processor. It is said that since the handset is similar in most aspects with its predecessor, it is not really a flagship model, hence the name Xperia Z3+. The name comes from Sony SCR30 Style Cover Window accessory description which was spotted by Russian site Mobiltelefon (via GSMArena) to mention support for "Xperia Z4/Z3+"
The Sony Xperia Z3+ global variant is reported to be identical to the Xperia Z4, in terms of design and specifications. The price and availability details of the smartphone outside Japan have not been tipped.
The Xperia Z4's launch came almost seven months after the Sony Xperia Z3's launch at IFA in September, indicating that the company is eitherunsure about its new one-year flagship cycle, or is yet to launch its flagship.
The Sony Xperia Z4 features a 5.2-inch full-HD (1080×1920 pixels) Triluminos display and much like recent flagship handsets is powered by a 64-bit octa-core (quad-core 1.5GHz + quad-core 2GHz) Qualcomm Snapdragon 810 processor coupled with 3GB of RAM.
The smartphone retains the 20.7-megapixel autofocus rear camera of its predecessor and bumps up the front-facing camera to a 5.1-megapixel offering. The handset includes 32GB of inbuilt storage, which is further expandable via microSD card (up to 128GB). The Sony Xperia Z4 is backed by a 2930mAh battery.
The Xperia Z4 include an IPX5/IPX8 equivalent certification, which makes the phone waterproof, and an IP6X certification making it a dustproof device. The smartphone will be available in White, Black, Copper, Aqua Green. It measures 146x72x6.9mm and weighs 144 grams.
Share