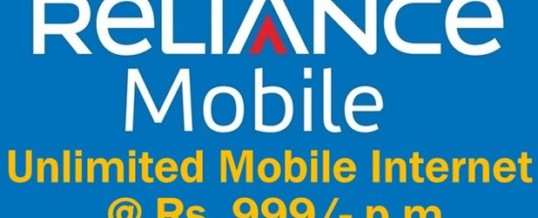 Within 24 hours of Airtel's announcement of offering 4G internet at the rates of 3G, Reliance has made a comeback offer of unlimited mobile Internet for only Rs 999 per month with no download limit. Yes you read it right, NO DOWNLOAD LIMIT.
The new high-speed mobile internet service is offered through the operator's CDMA network. The company has recently upgraded its CDMA services to Pro 3 network which will offer about peak download speed of 14.7 megabit per second compared to 3.1 mbps offered earlier.
The services have been launched in Chennai, Bangalore, Hyderabad and Pune and will soon cover other big cities such as Mumbai, Delhi and Kolkata.
Singh stressed that the plan "was truly unlimited", in that, a customer opting for it could safely go ahead and download, say, "100 GBs for Rs 999 without fear of a bill shock at the end of the month".
So technically speaking you could download a video file the length of a bolllywood movie in about 6-7 mins.
Other telecom companies reduce their download speed after you have crossed a particular data limit, but Reliance states that it does not even reduce the speeds. Also they have mentioned that this is not a promotional offer but would continue to be there.
Telecom experts on the other hand are sceptical about the unlimited data download speeds over a long term with a large customer base as it would choke up the network and disrupt mobile coverage due to the finite capacity of the Data Pipe.
All this is to be seen pretty soon. Hopefully with the launch of 4G we would see even more attractive schemes.
Share