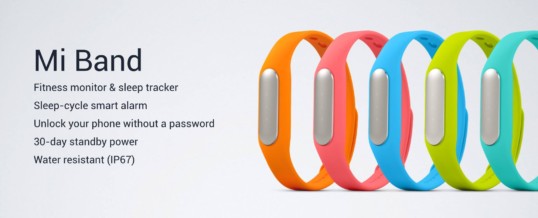 Xiaomi Mi Band
The Mi Band is an IP67 certified device, which means it is water-resistant and dustproof. It comprises of a simple polycarbonate body with an aluminum front face embedded with just three multi-colour LEDs for status. It measures 36mm in length, 14mm in breadth and 9mm in thickness with just 5g to its weight.
It is a detachable unit which goes into a silicone band and available in multiple colours to suit your style. Built into the gadget is a simple electronic circuit, complete with intelligence for monitoring your movements, and three LEDs and a vibrator as the alert mechanism.
The Mi Band features an ultra-thin 8mm 41mAh battery that lasts almost 30 days and an accelerometer along with Bluetooth v4.0 LE connectivity.
The budget-friendly Xiaomi Mi Band will be the first smartband for a lot of Indians.
In fact, this might give the much necessary push to the entire wearables market in India.
Tech enthusiasts have shown interest in smartbands, but not all of that has translated into sales as people are still not sold on its utility.
The Rs 999 Mi Band has changed this mindset.
Before the Mi Band arrived, we were used to seeing fitness trackers being priced as high as Rs 10,000. People were simply not ready to invest so much to get a wrist strap to track their daily activities.
A year ago if you asked anyone about Xiaomi in India, chances were they would not be aware of its existence and even if some did know about it, probably dismiss it as yet another Chinese company.
Fast forward to 2015 and not only does everyone know about it, many would even fish out a "Mi" smartphone from their pockets or tell you about how they tried to buy one in a flash sale that finished before he could click on the buy button.
Like many activity trackers, the Mi Band consists of a capsule, which is the core, and a plasticky band which has a slot for accommodating it.
It comes with a black strap by default though there will be straps available in other colors to buy. During the 10 days I have worn the Mi Band, I found the strap to be comfortable enough that I haven't felt the need to take it off. Unlike some of the other activity trackers,
which feel uncomfortable to sleep in, the Mi Band almost felt non-existent while sleeping.
Having said that, the quality of the strap isn't anything worth writing home about and in just 12 days there are visible scuff marks and scratches on it. But then the usual argument of what more can you expect in Rs 999 comes into play.
Update: Xiaomi says Mi Band went out of stock in 7 seconds in its first flash sale, which also happens to be the first flash sale on the company's own platform. The next sale is on Tuesday, and registrations begin on Wednesday.
The first flash sale for the Xiaomi Mi Band will commence at 2pm IST for registered consumers on the company's official India site.
This what you should know about the Mi Band before you buy:
Mi Fit app: The Mi Fit app is the heart of the Mi Band. The app is available on Android and iOS for free. The device is compatible with both iOS and Android smartphones. It has to be paired via Bluetooth to the smartphone app to sync recordings. You can switch off Bluetooth on your mobile to save battery and pair it only when you wish to see results.
At first, users will have to sign in with their Mi account or create a new one. The app will ask for personal information like gender, birthday, height and weight. Users will have to set a daily target of between 2000 and 30,000 steps.
The app can trigger the band to vibrate and notify users about incoming calls and also work as a silent alarm clock. The band will vibrate to wake you in the morning. The incoming call alert works when you are within the Bluetooth range.
What exactly does the Mi Band along with Mi Fit do?
It tracks the total number of steps, distance and approximate amount of calories lost everyday and also tracks sleeping pattern. If you wear the band while going to bed, it shows the time when you actually slept last night and also shows the time you woke up the next morning. The night mode shows the amount of deep sleep you had. However, the readings may not be accurate.
The Mi Band basically counts the number of steps you take in a certain period of time. The app then shows you the approximate amount of calories and fat you burned in that span. However, the app cannot record your daily calorie intake. So, you can ignore the calorie part altogether.
Best value for your money :
On the whole, I would recommend the Mi Band as a great entry-level wearable for those that don't want to make a big monetary commitment into their first fitness tracker. It could also be an excellent gift for any Android-wielding friends and family, even the less tech-savvy ones.
It doesn't do anything new, but it doesn't lack any major features of its pricier competitors, either. Frankly, unless there's a specific feature or third-party app that you just can't part with on the Fitbit Flex and Jawbone Up, I can't see any real justification for buying them over the Mi Band. I don't think Xiaomi is going to convert users of other fitness trackers out there, but at just US$13, it could easily steal away the majority of first-time buyers and those looking to upgrade from their old school pedometers. As long as it can keep up with demand, that is.
However, the Mi Band seems to be a device, which could do more than what it is meant for. We hope the developers at Xiaomi are reading this article to help improve the features of the Mi Band and the app in additional areas. If they manage to improve the app and the firmware for the Mi Band, maybe it could additionally do the following:
It could be used for an alerting you if you are out of range from your smartphone. So in case you forget to carry your smartphone with you while heading out, the Mi Band can buzz you to remind you.
It could be used for finding your smartphone if it is lost around the house or office. A simple nudge on the Mi Band could command the smartphone to sound an alarm.
It could be used along with your calendar to alert you about upcoming appointments.
It could be used as a reminder for health reasons. For example, you can set it up to remind you about drinking water periodically or take a walk if you are sitting for too long or even remind you that you need to sleep at specific times to get adequate rest.
It could be used as an alert system to notify you that you are out of cell-tower range or if the smartphone's internet data is not working.
It could be used as an emergency alert system in case if natural disasters, via the smartphone's app.
It could be paired with Google Maps to help you navigate through turns while driving or alert you when your destination has arrived if you are a commuter.
It could be used as an alert system in case you are a website administrator to notify you when your web server is down.
It could be used as an emergency alert system — it could send out an alert to your loved one's number in case you are in trouble.
It could vibrate in case of unauthorized use of your smartphone when you are sleeping.
Share